is a free and open resource designed primarily for faculty and students of higher education. Links to online learning materials are collected here along with annotations such as peer reviews and assignments.

You are welcome to browse the collection or search for materials. Members may add materials, comments and assignments to MERLOT. Membership is free.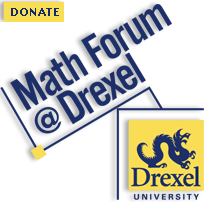 The Math Forum is a leading center for mathematics and mathematics education on the Internet. The Math Forum's mission is to provide resources, materials, activities, person-to-person interactions, and educational products and services that enrich and support teaching and learning in an increasingly technological world.